Please browse here for all the best in fiction and non-fiction from Goldenford . Click on the shop link for more information and for purchasing details.


Current Books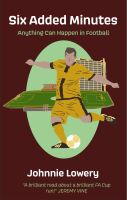 SIX ADDED MINUTES: Anything Can Happen in Football by Johnnie Lowery
Football's a game for dreamers and there's nothing quite like the FA Cup. For Sutton United's greatest fan, his ambition is to see his club make a name for themselves on that stage. Six Added Minutes tells a story of teenage dreams on and off the pitch, as author Johnnie Lowery's wide-eyed childhood dreams suddenly start to look as if they could well become reality.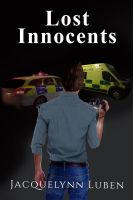 LOST INNOCENTS by Jacquelynn Luben
On a suburban Surrey estate, a dead man is found next to an injured woman and soon after, a schoolboy goes missing. These are major stories for journalist, Nick Delmar, who soon finds himself drawn into the lives of those involved, putting his career and life in jeopardy
SAMURAI'S GRANDDAUGHTER: A WANDERER by Taka Rothenberg
Japanese artist Taka Rothenberg , a Samurai's grand-daughter, spent some 50 years living in America, married to aneccentric and troubled New York Jewish poet, caring for both the animal and human waifs and strays they accumulated. Her book tells with humour and philosophical insight how she coped with life's difficulties but even now, when she is nearly ninety, she is still wandering and seeking an answer to life.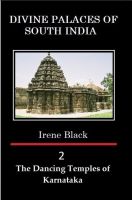 DIVINE TEMPLES OF SOUTH INDIA: VOLUME 2: THE DANCING TEMPLES OF KARNATAKA by Irene Black
Based on the research carried out for the author's MA thesis, a guide to the medieval Hoysala temples near Mysore.The architecure, which can make them appear to spin, their layout, and their exquisite soapstone carvings bear witness to the Hoysla love of dance.
No tour of South India is complete without a visit to these architectural treasures.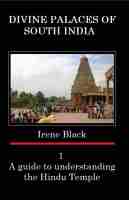 DIVINE TEMPLES OF SOUTH INDIA: VOLUME 1: A GUIDE TO UNDERSTANDING THE HINDU TEMPLE by Irene Black
An introduction for students, tourists and anyone else who would like to gain some understanding of the Hindu temple and Hinduism. The reader is taken on a journey through the extraordinary temples of Karnataka and Tamil Nadu, thereby gaining insight into their architecture and purpose, and acquiring familiarity with the culture of Hindu India.
T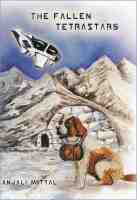 HE FALLEN TETRASTARS by Anjali Mittal
Zack and Kante are once again summoned by King Kra, to the land of the Banana People, the tribe from the planet TetraWorld.
Three TetraStars were dropped by the rescue ship from TetraWorld, before it went into a downward spiral and landed on Earth. Like all Banana People, Captain Krun and his crew need sustenance from the pouch of love and kindness to survive on our planet.
WH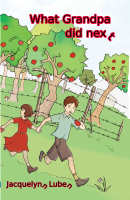 AT GRANDPA DID NEXT by Jacquelynn Luben
True tales of what mischievous Grandpa got up to when he was a little boy and later (and a few about naughty Grandma too).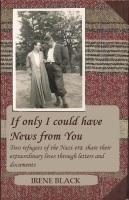 IF ONLY I COULD HAVE NEWS FROM YOU: Two refugees of the Nazi era share their extraordinary lives through letters and documents by Irene Black
Hans Behrendt and Klara Noack married in 1935 Berlin, weeks before the Nazi ban on mixed marriages. They fled to Britain three days before the outbreak of World War II, bringing with them 100 Jewish boys.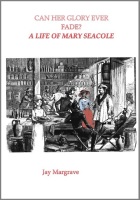 CAN HER GLORY EVER FADE by Jay Margrave
A life of Mary Seacole
The novel takes the bare bones of Mary Seacole's story and fleshes it out as it is told through the eyes of a wayward young servant girl, Ratia
THE SECRET OF THE GOLDEN DRAGON by Anjali Mittal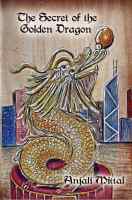 A year after their Boat Race adventure, Zack and Kante are summoned once more by King Kra of the Banana People, whose pouch of love and kindness has been stolen. The Evil Explorers and the Six Snakes intend to use it to create a powerful serum to take over the world.
This is a story about the power of good over evil. It is entwined with the culture and magic of Hong Kong.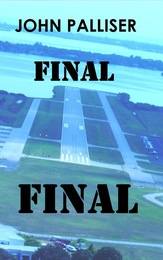 FINAL FINAL by John Palliser
The sky can be a dangerous environment for pilots and for their passengers. Most of the time, weather conditions are benign and flights are uneventful but when conditions become nasty pilots may not be able to keep on top of the situation. Added to weather hazards are mechanical failures, errors of judgement and the like. For military pilots there are, of course, the added risks of flying in a war environment and for research pilots there are the risks of flying into the unknown.
In this collection of flying stories, half of which are fiction and half of which are factual, John Palliser describes situations in which pilots lose the battle for survival. They will never again land off a final approach.The author is a private pilot and researcher into aircraft and all aspects of flying. He has almost 50 years of experience in the field.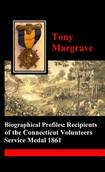 BIOGRAPHICAL PROFILES OF THE RECIPIENTS OF THE CONNECTICUT VOLUNTEERS SERVICE MEDAL 1861 by Tony Margrave
A reference book for people with an interest in the American Civil War. Tony Margrave has written extensively on matters military for journals published in Britain, France and the United States and as a result has been elected a Fellow of the Royal Historical Society.
He has been four awarded literary awards (the Canon William M Lummis trophy) by the Crimean War Research Society and two Literary Medals by the Orders and Medals Society of America.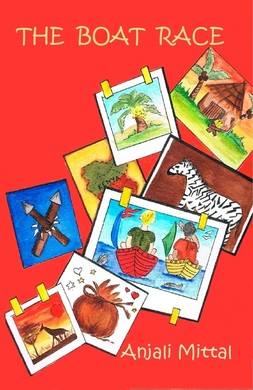 THE BOAT RACE by Anjali Mittal
When 11 year old Zack returns home to a sleepy African town, he does not expect an exciting summer holiday, but then he meets Kante, his new 'rafiki'. One stormy day they have a paper boat race, which leads them into a most extraordinary adventure in an enchanted kingdom, where their mission is to save the Banana People. A story of friendship, mystical people and magic, and above all a story of Africa.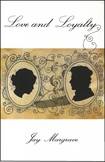 LOVE AND LOYALTY Jay Margrave
Jay Margrave proposes the idea that the young Jane Austen had a controversial love affair which may have coloured her life and writing. During the Napoleonic wars Jane nurses a captured French officer and love blossoms. But is it to be love or loyalty? That is her dilemma.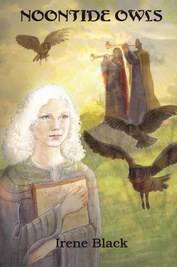 NOONTIDE OWLS by Irene Black
The conquering forces of Shoog the Awesome have left the City after a hundred years.
Its inhabitants - Anvil People, Scribes, Timekeepers and Mariner Folk - are free again.
Will they join together to rebuild their devastated City?
Or will their liberty cause darker forces to leach out?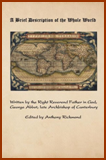 A BRIEF DESCRIPTION OF THE WHOLE WORLD by George Abbot
George Abbot, later Archbishop of Canterbury wrote 'The Brief Description' in 1599. It gives us a revealing glimpse of how a leading churchman of this time regarded his world. This edition is designed to be accessible to readers of today while still keeping the flavour of George Abbot's work. It has been edited by Anthony Richmond, Master of Abbot's Hospital, Guildford.
THE NINE LIVES OF KIT MARLOWE by Jay Margrave
This book takes the reader through a sixteenth century tour of Europe wllh Kit Marlowe and his friend but with an ingenious aim - anyone who Loves the Shakespeare and Marlowe conspiracy will love the turn of events in this novel, which is the third of a trilogy featuring Tom Priedeux.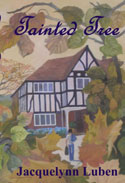 TAINTED TREE by Jacquelynn Luben
A surprise bequest from an unknown benefactor leads American adoptee, Addie Russell, to Surrey on a journey to discover more about her mysterious English family. She does not know that her search will uncover secrets that will both shock and thrill her. Nor can she imagine the emotions and events which await her.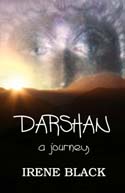 DARSHAN by Irene Black
A young woman struggles through a morass of unsuitable relationships, involving betrayal, danger and heartbreak, in order to find her cultural identity. Her journey takes her from India to Britain to American and back to India. Is she destined to live her life on the fringes of the communities where she grew up? Or will she finally come to terms with who she is?
LUTHER'S AMBASSADORS by Jay Margrave
In this, the second of the Priedeux mysteries, we rediscover Tom Priedeux, now serving the young Anne Boleyn. However, Tom is more than just a servant; at different times, he is her mentor, her confidante and sometimes her critic. Anne has one overriding ambition: to reform the Catholic Church. The only way she can achieve her aim is to marry a powerful man and use her wiles to influence him. This man, of course, is Henry VIII. Priedeux helps her in this aim and when her schemes are going awry he is there to fight her battles; when her life is threatened, he saves her; when she needs a ally, he is at her side. But for how long can he survive the political battles of the Court without himself becoming a target for powerful men?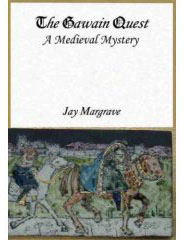 THE GAWAIN QUEST by Jay Margrave
Priedeux is a medieval hitman. He is sent to kill the writer of the poem, Gawain and the Green Knight, to stop further seditious texts against the King, Richard II. As he follows the clues in the poem, Priedeux finds himself questioning the very purpose of his vocation. Can he discover the identity of the mysterious author in time to stop rebellion and save his own life? And what will he report to his master, John of Gaunt?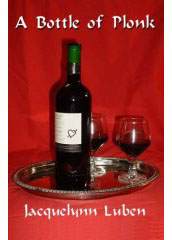 A BOTTLE OF PLONK by Jacquelynn Luben
It's 1989 - a time when Liebfraumilch, Black Forest gateau and avocado bathrooms are all the rage, and nobody uses mobile phones. When Julie Stanton moves in with Richard Webb one Saturday night in May, everything is looking rosy. She certainly doesn't expect their romantic evening together to end with her walking out of the flat clutching the bottle of wine with which they were to toast their new relationship. But then Julie and the wine part company, and the bottle takes the reader on a journey through a series of events revealing love, laughter and conflict.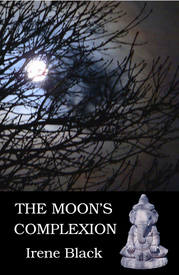 THE MOON'S COMPLEXION by Irene Black
Bangalore, India 1991. Ashok Rao, a young doctor, has returned home from England to choose a bride. But who is the intriguing Englishwoman who seeks him out? Why is she afraid and what is the secret that binds them together? The lives of two strangers are turned upside down when they meet and the past comes to haunt them. The Moon's Complexion is a tale of love across cultural boundaries. It is also a breath-taking adventure tale played out in the mystical lands of Southern India and Sri Lanka and in the icy countryside of winter England.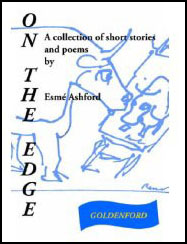 ON THE EDGE by Esme Ashford
Tramps with bad feet, a sheep rustler, a busker invited to dinner; a weird monster who devours a nasty husband, and a child who learns from a visit to the fun fair; stories, limericks and blank verse: it is all here in this magical collection of short stories and poems!