---
A BOTTLE OF PLONK by Jacquelynn Luben
£4.99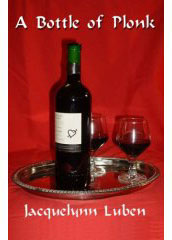 It's 1989 - a time when Liebfraumilch, Black Forest gateau and avocado bathrooms are all the rage, and nobody uses mobile phones.
When Julie Stanton moves in with Richard Webb one Saturday night in May, everything is looking rosy. She certainly doesn't expect their romantic evening together to end with her walking out of the flat clutching the bottle of wine with which they were to toast their new relationship.
But then Julie and the wine part company, and the bottle takes the reader on a journey through a series of events revealing love, laughter and conflict.